Recording – Drag & Drop from Outlook to SAP
Drag & Drop from Outlook to SAP
Many SAP users would like to conveniently drag and drop their Outlook emails and attachments into SAP but settle for the default, rather cumbersome technique that comes with out of the box SAP.  As the tagline goes, the best run businesses run SAP – and many of those best run business also run Microsoft Outlook.   So it's no wonder that SAP administrators find themselves searching for a solution to make it possible for their SAP users to associate Outlook emails with SAP transactions; which is why we created SWIFT, the Outlook add-in that enables drag & drop from Outlook to SAP.
Yes, it is as easy as that – drag Outlook emails and drop them in SAP.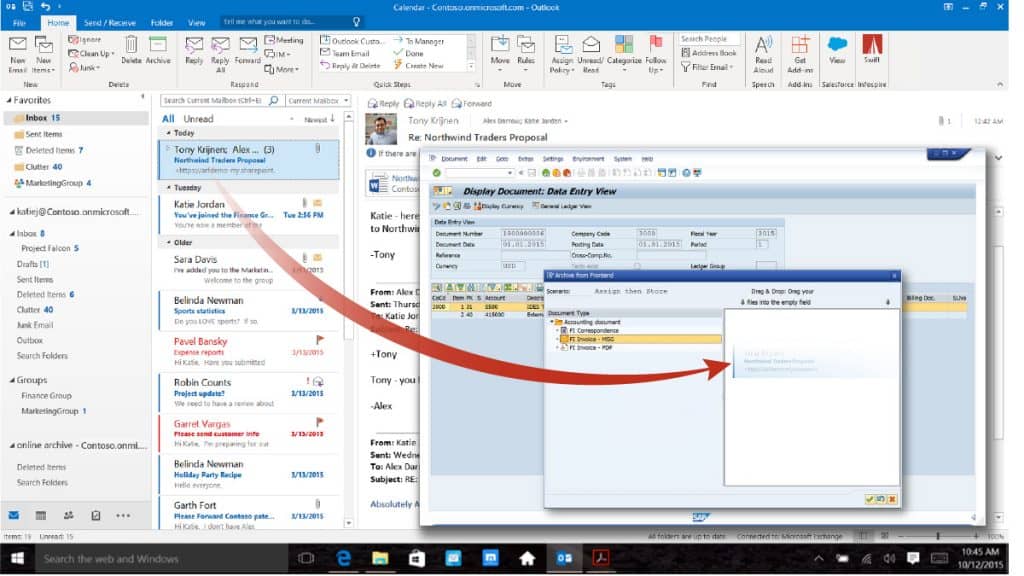 SWIFT enables users to select one or more emails which makes it easy to select and drag several emails and drop them into the related SAP transaction.  Similarly, SWIFT enables users to control email attachments: add them to the SAP transaction, or not, as needed.
Training Drag & Drop from Outlook to SAP
Not surprisingly, our customers tell us that training users how to drag & drop from Outlook to SAP is, well, trivial.  Our customers typically send out an email announcing the new functionality that includes a picture like the one above.  That's it.  And as for Change Management?  Not too much work there either, as you can imagine.
Panel Discussion
We recently hosted a 20-minute webinar in which our panelists
discussed the use case,
demonstrated drag and drop from Outlook to SAP, and
answered questions.
In case you missed it, you can watch the recording here:

Questions about Drag & Drop from Outlook to SAP
Common questions about Drag & Drop from Outlook to SAP include:
Q: Can we use both Fiori and SAPGUI?
A: Many of our customers use both and both are supported alone and together.
Q: Can we limit the number of selected emails?
A: The maximum number of emails that a user can select and drag is set to 20 emails by default.  This prevents user mistakes like dragging all their Outlook emails and dropping them into an SAP transaction.  Administrators can reset the system-wide default as needed.
Q: What are the platform / environment requirements?
A: We support SAP's SAPGUI and Fiori current major and minor releases (i.e. 7.6) as well as one major release behind (i.e. 6.22). Likewise, for Microsoft Windows and Microsoft Outlook.  Note that if you have a different environment that is supported by SAP and Microsoft, upon purchase we will support your environment as well.
Q: Do you offer a trial or evaluation license?
A: We typically offer our evaluation license at no cost for up to 90 days.  Our customers tell us that the add-in install is trivial, testing is pleasant, and enterprise adoption is a breeze.
More information
If you'd like a tailored demo or have specific questions, please email us at info@infospire.net.